Smartastic Living
Monthly column, as printed in Proteus, the Journal of the Delaware Valley Mensa

2014
|
2013 |
2012
| 2011
|
2010 | 2009 | 2008
When our instructor, or
sensei
, calls for class to begin, the room falls silent but for the frantic patter of bare feet on wood as students rearrange themselves in order of rank, shoulder to shoulder.
More...
I bow as the glass double doors close behind me. Bowing is not easy when burdened with a bag that includes uniform (
gi
), belt, deodorant, sports tape, baby powder, flip flops, towel, water, padlock, notebook, and pen, but I manage.
More...
It Figures (Mar 2014)
Skating lessons didn't work out for me. Until I went back, nearly 20 years later.
----------------------------------------------------------------------------------------------------------------------------------
You know those little kids at the ice rink? The ones in the actual skating dresses, doing jumps and spins and all manner of Olympic-looking stuff? I was not that kid. I was the one who felt it totally unreasonable to expect the blade to hold me up if I was moving forward on my right foot, and leaning over to my right as far as the instructor seemed to expect me to. Skating on my right foot and leaning to the left, sure. Cake. Because I could always put my left foot down to catch myself in a pinch. But leaning way over to the right? With no extra foot over there to drop down and save me? No sir. And that was the end of my childhood figure skating career.
More...
Heroine Pusher
(Jan 2014)
Mulan > Cinderella.
It has come to my attention that an online quiz exists to identify which Disney princess you are. I'll wait here while you rush to your computer to search for it, because I know how long you have been pondering that very question.A friend posted a link to this quiz, noting not only her results, but also which Disney princess is her personal favorite. It brought to mind my own favorite, Mulan. She isn't a princess, per se, but she's a Disney heroine, so it is all the same to me. I really wish more little girls – and their mothers, and their fathers – would pass over
Cinderella
from time to time to watch
Mulan
instead. Not that her martial arts skills are influencing my judgment. OK, maybe they are. But tell me, how many Disney heroines can defend
themselves
?
More...

2014 |
2013
|
2012
| 2011
|
2010 | 2009 | 2008
Can't You See I'm Busy? (Dec 2013)

Because I thought it was really obvious.
My mother and I had just stepped onto the train platform when the blonde ponytailed, mid-20s-ish woman in front of us recognized and approached a bespectacled middle aged man who was sitting on the bench to our left, reading a newspaper. "Don't I know you?" she asked him. He looked up, head tilted. She continued, "Haven't I seen you in my restaurant?" "Ah. Yes," the man replied. I am not convinced that he actually recognized her, but his politeness was admirable. For approximately one second. Then it became regrettable, because she took it as an invitation to continue. "It was crazy in there," she announced, her volume increasing. "And it's not worth it! Not for what they pay me!" More...


Haiku-d See for Miles (Oct 2013)

My fourth annual haiku challenge! Bring it on.
I shared a special appreciation of haiku with my high school English teacher, JTK. Each fall since his passing in the spring of 2010, I have issued myself a haiku-writing challenge in his honor. The tradition centers around me asking friends to submit topic suggestions, and they never disappoint with their creativity. Some are inspired by stories in the news or online, such as "86 year old gymnast" (look it up, and watch her routine on the parallel bars) and "fork in penis" (you might not want to look that one up, but that is totally up to you).
More...
The Eagle Strikes Again (Sep 2013)
So, wow. He really looks like this in person.
In 1985, somewhere in Ohio, a skinny, curly-haired girl with braces taped a poster – probably from
Right On!
Magazine – of actor and martial artist Taimak to the inside of her middle school locker. Taimak is an Aztec word meaning "Ages Like Fine Wine" – excuse me for a moment.
Fingers! Obey me!
Apologies, dear reader. That should have read "Striking Eagle." Taimak had just starred in
The Last Dragon
, a cross-cultural action/kung fu/comedy film executive-produced by Motown's Berry Gordy. The soundtrack included DeBarge's hit single "Rhythm of the Night." Go ahead. Hum it. Dance until the morning light.
More...
Red Beets and Beer
(Jun 2013)
I do not like them anywhere.
The idea of beets fills me with dread. The sight of them turns my stomach. The taste of them? I wouldn't know. If I have ever actually consumed beets, the experience was so traumatic that I blocked it from my memory, and all that remains is my staunchly beet-averse lifestyle. If I have not, in fact, ever eaten beets, I have no problem staying the course. It has worked for me for close to four decades. Why mess with a good thing? Yes, I have read
Green Eggs and Ham
.
More...
Something made him assume that I was not a member of Mensa.
A few summers ago, I visited a writing group for the first time. I was eager and curious. What kind of writers would be there? Would they be friendly? What could I learn from their experience? I decided it could never hurt to hear from people who have taken this crazy craft seriously enough that they now have useful advice to share with anyone willing to take it.
More...
The Silence Breaker (Mar 2013)
When asking a question helps no one.

When Q&A time comes at your speaking event, and no one wants to ask the first question, despite your pleading glance and the enduring silence, fear not. If I am there, I will make something up on the spot just to rescue you, I will raise my hand, and I will ask you a question. You will thank me with your eyes, but it's cool. Just doing my part as your superhero, The Silence Breaker. Soon, other hands that were hidden in laps or folded on notebooks will appear overhead, and then my work is done. Rise up, O ye hands! Rise up and be free!
More...
Warning: Approaching High Nerddom (Feb 2013)
Maybe I shouldn't have told anyone what I was listening to that day.

As a child, I never imagined that I would one day live in a world that offered gifts as marvelously marvelous as free podcasts. They are everywhere, about everything, and if you cannot find one that interests you, then you are interested in nothing. And there is surely one about nothingness, so I rest my case.
More...
Inappropriate Laughter (Jan 2013)
Usually, laughing is great. But sometimes... well....

When I was taking regular salsa dance lessons, I thought I would try a different class from my usual one. I had seen this other instructor around, but did not know him well. All but one of the students were strangers to me. Upon reflection, I should have realized that this would not be the best audience for my genre of humor. More...
2014 | 2013 | 2012 | 2011 | 2010 | 2009 | 2008
Stop. Haiku Time!
(Nov 2012)
The results of my third annual haiku challenge.
This past October marked the third since JTK, my favorite high school teacher, passed away. As he and I were very fond of haiku, and as he once challenged himself to write 100 of them just for kicks, I thought it a fitting tribute to him to issue my own haiku challenge.
More...
Grandma. Flashbacks.
(Oct 2012)
Remembering my grandmother.
In my little feety pajamas, I would pull her hand, looking up at her and saying, "Grandma, Grandma, can I read you a story?" I guess I didn't understand that it was supposed to work the other way around, but she didn't seem to mind.
More...
The List™
(Sep 2012)
Procrastination as inspiration.
If you've ever gone on a trip and realized you've forgotten your X, Y, or Z, I feel your pain. Thanks to my tendency to put things off whenever possible, I don't start packing until maybe 2am the night before I'm set to leave (and yes, technically, that
is
the day I'm set to leave). I'm pretty stressed and tired by then, leaving me in no state of mind to realize whether I've remembered every last thing I might need.
More...
Cyborg
(Aug 2012)
And you thought
you've
felt pins and needles in
your
foot.
I am blessed to have had some mighty proud accomplishments in my life. Earning my black belt. Successfully communicating in another language abroad. Inspiring a "no high diving unless you are on the diving team" rule at the local pool. But one of my most treasured feats would have to be prompting an X-ray technician to say, "You know, you do this for 17 years, and you think you've seen everything."
More...
Antarctic Kata
(Jun 2012)
Trying my hand - and foot - at karate in Antarctica.
A few years back, I had the totally unexpected fortune to be sent on a trip to Antarctica. Antarctica? Yeah. Antarctica. It is still a bit surreal to accept that I saw it with my own eyes, so more about the trip itself another time. For now, I want to tell you about the morning I decided to do
kata
(preset series of karate techniques) on the deck of the ship.
More...
Lessons Learned One Night in Springtime
(May 2012)
What I learned about life - and bouncers - on the night when I forgot my ID.
I was a few days back from a week abroad, and hoped to stay out late to force myself back onto a regular sleep schedule. Since my return, I had been falling asleep in the early evening and waking up at 3:45 a.m. It had to stop.
More...
Who Is Okie, and Why Must We Carry Him?
(Apr 2012)
Why karaoke is awesome, and how to know if you have a problem.
Today, I salute one of the few safe spaces for exposing one's true musical tastes, however eclectic.
More...
Column interlude:
What might George Zimmerman see?
(3/23/12)
:(
(Mar 2012)
Smile payback time.
So, I'm sad. I knew in advance that I'd be sad. This didn't lessen said sad, but it did allow me time to warn and equip my friends for my then impending sad. I told them I'd need them, whether for silly messages or cheering up outings, and they have not disappointed. This makes me glad. The sad to glad ratio is still in sad's favor, but at least they have each other to play with from time to time.
More...
Winter in Canada (Feb 2012)
What it's really like to drive a dogsled. Because I know you've been wondering.


When Mid-Atlantic people complain about winter, I get snooty. P-shaw. I spent my formative years near Cleveland. "Talk to me when you get some real snow," I say as I toss my cape and walk away to superior music. But I have now seen the winter of Canada. I'm only now thawing out. More...


A Cute Angle (Jan 2012)
How a geometry problem recently made me reflect on the usefulness of what I learned as a child.

One impressive aspect of the martial arts is the age range of its participants, running from just-started-walking through, well, as high as human ages go. As such, through karate, I am connected with adults who have trained for longer than I have been alive, as well as with kids who have just started high school. The latter end of that spectrum exposes me to questions I might not otherwise see at this stage of my life, such as, "Can anyone help me with this math problem?" More...
2014 |
2013
|
2012 |
2011
|
2010 | 2009 | 2008
Anti-Inflammatory Remarks (Dec 2011)
Reacquainting myself with my old friends, R.I.C.E. (Rest, Ice, Compression, Elevation) and NSAIDs. Hey, guys.

You know what I never fully appreciated before? My elbow. My right elbow. I never noticed how essential it was in the performance of tasks like, oh, everything.
More...


Haiku. Me, too! (Nov 2011)
Challenging myself... difficult, yet rewarding. Two years and counting.
Last year at around this time, I was inspired to challenge myself to write haiku on just about any topic my friends could throw at me. Among other things, I learned just how hard some of my friends can throw. More...
Be Prepared (Oct 2011)
People often assume I was a Girl Scout for one, non-cookie-related reason.

I realize that the whole Scouts "Be Prepared" thing has always been a part of my life philosophy, even though I've never actually been involved in the organization. Unless, that is, my unusual affection for the cookies counts as involvement. I'm always "Prepared" to enjoy a few Caramel deLites (the artist formerly known as Samoas) or a roll of Do-Si-Dos. And man, oh, man, have you tried those new Lemonades? Good googly moogly. But I digress.
More...

Salsa Hurts (Sep 2011)
If you must be kicked in the knee, at least make sure there's good music on.

I've had my wrist twisted, my shoulder wrenched, my instep bruised/crushed/pierced/scraped/scarred. I know men who have been cracked in the face by spinning, braided whips. I know women whose noses were broken by overambitious elbows. No, not in the dojo. On the dance floor. More...


Costume Matters (Aug 2011)
How the resurgence of '80s fashion has messed with my Halloween.


For most of the late '90s and early '00s, my go-to Halloween costume was "The '80s." It was simple, really, because I was there; all I had to do was pretend to be getting ready for school, and voilà. It couldn't have been more authentic. More...


Knit and Pearl (Jun 2011)
Learning to knit from my Grandma.


I was around 9 years old, watching Bugs Bunny with my grandmother, when the show's "Granny" character made an appearance. She was in her rocking chair, knitting in the cartoon way (i.e. fully-formed garments emerged directly from her needles). I looked from that granny to mine, and pondered the obvious question: is knitting something all grannies can do? More...


Circumflexing My Muscles (May 2011)
Studying abroad in France waaaay before I was ready.


France gets a bad rap here in the States. How many times have you heard the phrase, "We saved your a$$ in World War II" applied to any other country? Thing is, that's pretty tired since they saved our a$$ in the Revolutionary War. As that assistance helped us to become an a$$-saving, independent nation in the first place, perhaps it's time we called it even. Besides, any country that originated chocolate mousse is alright with me. More...


A Healthy Paranoia (Apr 2011)
Why I was destined to carry hand sanitizer.


Think of a mother who is unusually worried about her children. This can be your mother, or anyone else's. Do you have someone in mind? I bet my mother's worrying can beat up your mother's worrying. Some of you doubt me. Surely you've never met _____, you might be thinking. No competition, I say, unless the woman you are thinking of works in children's health. And if she does, let us share this moment of understanding. (Moment.) More...


Loose Lips (Mar 2011)
Because getting stitches in your face is fun!


My mother used to work around sick and injured children all day. This was stressful enough without adding her own children to the mix, but we did occasionally wander into that territory. My older brother, upon landing from an epic jump from the swings at recess, needed several stitches in his tongue. Let's say Mom's favorite afternoon was not the one when she got to leave work, come to school, and find her firstborn with a mouth full of blood. More...


A Cup of Salsa (Feb 2011)
Lessons learned while competing as an amateur at the World Latin Dance Cup.




August 2010, Philadelphia, PA


I contacted a local (but internationally known) salsa instructor to ask if he was interested in doing a pro-am performance with me. This is where a professional dances with an amateur – I had done one before, and thought it would be fun to try again. At the beginning of the first private lesson, he cocked his head to the side and gave me a mischievous look. "So," he said. "You wanna compete?"
The sound that came out of my mouth was something like, "Urughaahagh?" More...
At Arm's Length (Jan 2011)
When bad things happen to long-appendaged people.

I can reach any spot on my own back. I can get items down from the high rack in dept stores without calling for assistance. I was never a master of those middle school basketball dribbling drills, but it was tough to get the ball past me when I was playing defense. In karate sparring, my reach is deceptively long; I might be able to tap you from here. I feel a surge of potential usefulness whenever I overhear, "Can anyone reach that?" More...
2014 |
2013
|
2012 |
2011 |
2010
| 2009 | 2008


Haiku. Gesundheit. (Dec 2010)
Five Seven Five, baby.

Let us take a moment to celebrate the haiku. Its limitations are unforgiving; line by line, either the syllables add up to 5/7/5 or they do not. The road to success is strewn with beautiful words and phrases. They sit confused, unable to accept that they were so easily cast aside, for so superficial a reason. The following conversation was overheard between two fabulous-yet-discarded phrases spotted leaning back-to-back on the median. More...
Learning the AlefBet (Oct 2010)
How I learned the Hebrew alphabet during Spanish class.

At the beginning of 7th grade, I was asked to pick the foreign language I would like to study for the coming years. To me, ever the practical child, the answer was clear: Spanish. Reason #1: it was the second most common language in the United States, so I might actually get to use it. Reason #2: I had always wondered what Ricky was yelling at Lucy. More...


What a Neat Trick (Sep 2010)
Another one of my most embarassing moments. You're welcome.

There is a scene in the '80s movie classic, The Breakfast Club, where five high school students brought together by circumstance begin discussing what interesting or unusual abilities they have. I lived a similar scene with a bunch of fellow freshmen during the first week of college. It was probably two o'clock in the morning, and around ten of us were in a big circle on the floor of someone's room, talking about everything and nothing, bonding over our new lives together away from home. More...


What Are You Waiting For? (Aug 2010)
My remarks at my HS teacher's memorial.

I was one of two alumni speakers at my HS teacher's memorial on June 19, 2010. May the message I shared that night prompt you to action as it honors his memory. More...


The Packrat Race (Jul 2010)
When packrat life yields dividends.

Maybe it was all the Little House on the Prairie I watched as a child. Ma and Pa would never have let Laura get away with discarding perfectly useful items. As I type this, I'm wearing my high school swim team sweatpants, which I've converted into shorts. Were it autumn, I'd be wearing my still-full-length Penn Athletics sweats, which date back to my freshman year of college. Their accompanying practice shorts disintegrated a few years ago, having long since impressed me with their longevity. I let them go and wished them godspeed. More...


Vive la Résistance (Jun 2010)
High school class(room) warfare.

When I look back on my high school days, I see many teachers I liked, some I didn't, and just a few who didn't leave much of an impression at all. But they were all well-intentioned in their own ways, and their commitment to that mostly thankless job earns my retroactive appreciation. With one exception. Let's call her Ms. Fullmouth. More...

Sssssmartassss (May 2010)
This time the title says it all.

In the Italian language, the doubling of a consonant actually prolongs the pronunciation of that consonant. So, unlike English, where the word Brunello would be pronounced "Broon" "L" "O," in Italian it is "Broon-ELLLLLL-O." As such, I believe that my high school American History teacher must have studied Italian. After I made one of my humorous-but-unsolicited comments in class, she momentarily ignored the rest of the students, looked at me, paused, and said, "Sssssmartassss." More...

Sweat Happens (Apr 2010)
Taken from the salsa files.

As the complex rhythms wash over me through the open door of my favorite salsa dance club, I know that my fellow addicts – the DJ, the instructors, and several of the dancers – will know me by face, if not by name. Names are useless here anyway. Who can hear them? Besides, people here are more easily identified by persona. Let's go around the room and look at some of my prospective dance partners, shall we? Remember Sesame Street's "Who are the people in your neighborhood" song? Well, I will show you who are the people at the salsa club. At the salsa club. At the sal-sa-club, oh…. More...

16 Random Things About Me (Mar 2010)
Ah, facebook....

Ah, Facebook. Blessing and curse. Friend and foe. Timesucker and… timesucker. How can one social networking website be both a vital facilitator of communication and a colossal waste of time? Yet, can one blame www.facebook.com itself for this? As Benjamin Franklin once said, "Facebook doesn't kill people's time. People kill people's time." More...

Sing, Sing, Sing, Sing (Feb 2010)
Varying reactions to my (ahem) charming tendency to burst into song.

As the night's Art History lecture drew to a close, the instructor asked us to turn in assignments on our way out, and reminded us that our next session would take place at the Philadelphia Museum of Art. She added, "I'll be in the European section." Some subtle quality in her cadence called to mind a line of the then popular ballad, I'll Be. So I sang it. Aloud. With the new lyrics. More...
Hajime, Part II (Jan 2010)
Part 2 of 2: on to my first karate class.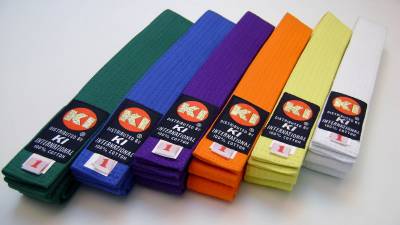 Ring, ring.
"Hello?"
"Mike, what do you know about Shotokan karate?"
After a thoughtful pause, he replied, "Not much, but I do know it's known for its very powerful blocks."
He treated my question as a "hello"; the great beauty of siblinghood is the freedom to dispense with formality. More...
2014 | 2013 | 2012 | 2011 | 2010 | 2009 | 2008
Hajime, Part I (Dec 2009)
The origins of my karate training. Like most things, a good portion can be blamed on my older brother.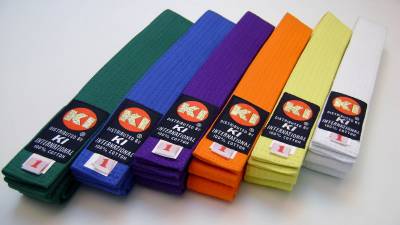 Growing up only two years apart, my older brother Mike and I were very fortunate to have similar interests as children. The routine of choosing television programming would have been far more traumatic for us both had I not been such a tomboy. We enjoyed a good martial arts flick on Saturday afternoons, and routinely knocked things over during commercial breaks while practicing our poorly-formed punches, useless flying kicks, and highly entertaining voiceovers.
"You killed my teacher! Ha ha! Now you must die! Ha! Thwap, thwap." More...


Ohio Means "Good Morning" (Nov 2009)
My first winter in Ohio after moving from MD. This piece was selected to be a "Feature of the Month" in the online edition of Mensa for Kids.

I was 11 years old when I moved from Maryland to Ohio. Every child old enough to spell "Chesapeake" knew that Baltimore/Washington-area snow virtually guaranteed a one- to two-hour school delay, if not a glorious, sledding-filled, full day cancellation. Therefore, when I awoke to my first view of Ohio's snowflakes one autumn morning, I presumed them to be no less powerful than Maryland's and returned to a contented half-sleep. Would we be free for one hour? Two? The whole day? I would concern myself with such things after my nap.
More...


Party Punch (Oct 2009)
Good times with students of the martial arts.

My coworker Sarah and I arrived for our company holiday party at Jenny's beautiful new home after about 45 minutes of driving through deepening snow. Festivities or no festivities, we were just happy to get indoors. After we greeted those who'd had sufficient time to thaw, Jenny gave us a tour ending with the basement, where Sarah turned sharply to the left, sighing, "Ooh, air hockeeeeeyyy." I would have mocked her, but I was too busy turning to the right, sighing, "Ooh, punching baaaaag." More...


When Televisions Attack (Sep 2009)
Why a wheeled podium should not be used as a television stand.

In the days when I trained small groups of prospective employees for a company that I love, so it shall remain nameless, I would start a typical evening by gathering booklet and video materials from the designated "Trainers" area. Here I would usually find a television waiting for me, comfortably seated, if slightly dusty, on an enormous rolling apparatus that was never without a sticker featuring a screaming cartoon silhouette about to die, evidently, from reckless misuse of a television cart.
More...

Inarticulate Fandom (Aug 2009)
Meeting a celebrity athlete = one of my most embarassing moments.

I was fortunate enough to be welcomed as a walk on to the University of Pennsylvania NCAA Division I Varsity Women's Track & Field team. I wasn't good enough out of high school to be a formal athletic recruit, but with incredible coaching and notable improvement (thanks Betty and Tony!) I earned the opportunity to high jump for the home team in the collegiate division of the Penn Relays, the largest annual track meet in the world. Only the Olympics can claim greater longevity in Track & Field competition. It was beyond exciting to compete, and it wasn't half bad to see national and world class athletes up close and in person.
Like Dan O'Brien.
More...

The Great Escape (Jul 2009)
Seriously, this really happened to me.

After a particularly rigorous karate class followed by an impromptu one-on-one tutorial with the instructor, I was the last student to leave the dojo floor. That junior-level instructor – let us call him Ned – was responsible for closing up, so he asked me to wait up front until he returned from locking the back door. I occupied myself by taking notes on what I'd learned that night. Fifteen minutes and a page and a half of notes later, no Ned. I called his name outside and in, downstairs and up. No answer. Now worried, I decided to retrace his steps and look for him. More...

Karate-ka Sings the Blues (Jun 2009)
Karate as musical inspiration.

The remote control was a listless extension of my arm as I clicked from one daytime television program to the next. Through a drowsy fog, in search of better sick-day-background-noise than my own fits of coughing, I noticed a talk show guest who appeared to be a cross between Jack Nicholson and Dom DeLuise (may he rest in peace). As the man faced his Edith Bunkeresque wife, the host informed me that Jom had brought Edith on to the show twice before to inform her that he had been unfaithful. This can't end well, I thought, wondering why in the world this woman had agreed to return for a third appearance. More...


Journal Entry: December 1, 2006 (Apr 2009)
My first day back after a karate injury.

During my 2nd degree brown belt examination, my big toe had a little disagreement with my opponent's knee. Knee 1: Toe 0. Other than that loud "pop" I'd say the exam went very well; I advanced one half-level, but was out for four months before I could enjoy it. Two cortisone shots (one for each joint), one surgery (to remove a floating bone), and one post-surgery recovery month later, I was free. This journal entry from my first night back is dedicated to my friend Edina, who faces months away from her favorite activities due to a torn ACL. May this encourage her to trust that, for her, there is hiking at the end of the tunnel. More...
The McDonald's Menu Song (Feb 2009)
High school nerdiness pays off at breakfast.

Like many academic nerd-types with a flair for the dramatic, I was an active member of my high school's Model UN club. Hundreds of students would gather at a hotel for the weekend, dress up in their pre-professional best and, as mock delegates of their assigned nations, propose resolutions to the most pressing international issues of the day. What 16-year-old wouldn't jump all over that? More...
2014 |
2013
|
2012
| 2011 | 2010 |
2009 |
2008

Will Exterminate for Massage (Dec 2008)
A wasp attempts to take over my chair massage appointment.
At the insistence of my lower back, I took advantage of my employer's reasonably-priced "Health & Wellness" division chair massage benefit. The catch? The building's hallway system was inspired by a cornfield maze. As I wound my way through and climbed the second flight of stairs, just as I was convincing myself that finding this room would soon be worth the trouble, I heard muffled screams, giggles, and what sounded like jogging overhead. I then heard a man's clear, robust belly-laugh when I turned the corner onto the 3rd floor landing. Had I come at a bad time? More...